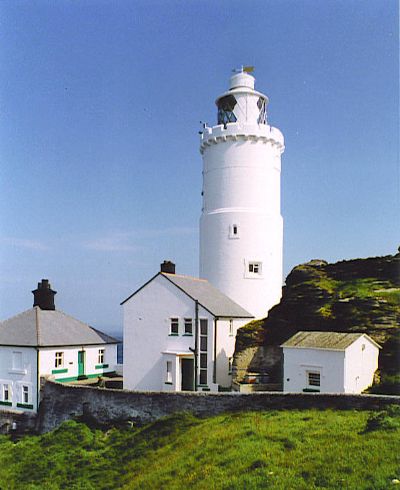 If you have already been on my Walney Island page you might remember I said that the reserve's lighthouse was my favourite. Well, I have just changed my mind. After a weekend spent in one of the two keepers cottages at Start Point, I have reassessed my list and there is no doubt this is my new favourite beacon. While the general public can enjoy the walk towards the lighthouse from the car park (around a mile), they cannot access the area outside the cottages, which is for the private use of guests (unless the lighthouse is open for tours). Trinity House has turned 27 keepers cottages into holiday accommodation and you can book short weekends or several weeks through Rural Retreats. Don't try and find a privately-owned cottage because they all belong to the charity! The only lighthouse in the UK (as far as I know) that is currently used as someone's permanent home is Belle Toute (I am planning to dedicate a page to this lighthouse fairly soon) in Sussex.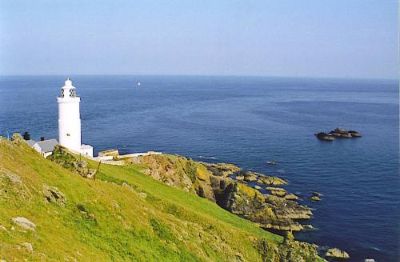 Start Point lighthouse is located in a beautiful part of South Devon, on the most exposed tip of the region. It is in fact one of the first - and main - beacons ships come across when sailing in from the Atlantic. There is plenty of scope for scenic walks (there are well-worn paths on the side of the cliffs) so bring comfortable shoes, a bottle of water and plenty of film! If you are staying for a couple of days you can also visit the town of Salcombe; just make sure you don't drive all the way there but leave your car at East Portlemouth where you can catch the local (and very small) ferry across the harbour (£1 per person each way) as parking in Salcombe can be difficult.

On the way back from Salcombe to Start Point stop at Gara Rock; it's a fantastic sandy beach with amazing rock formations. Definitely worth a stop!

Once back at the lighthouse you can start checking for the beacon; Start Point's character is a white group flashing three times every ten seconds. This means that when it's dark enough to make out the beams you can see two sets of three; one pointing in one direction and three shooting off straight south of those. There is something particularly charming and relaxing about watching them - I even kept the curtains open throughout the night.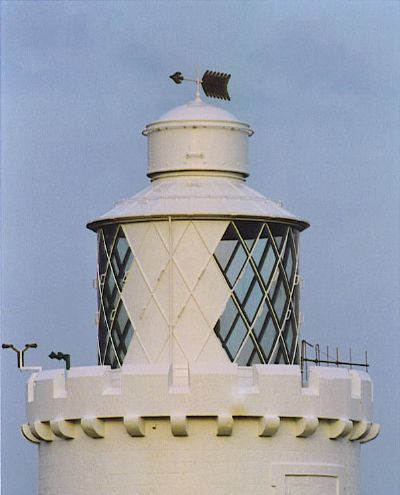 On the Sunday we visited the lighthouse (which is open to the public on Wednesdays, Thursdays and Sundays from 12:00 until 5:00 - but do check with Trinity House!). For £2.50 per person (they also do family tickets) a tour guide took us up the tower and told us the history of Start Point (great place to scuba dive this bay - tens and tens of ship wrecks!), showed us various props and then took us to the lantern room. Because the optics in this lighthouse are fairly new, they are rather small and light (20 weights) and instead of resting on a bath of mercury, the rotation is provided by an electrical motor. Despite only having two 1,000W bulbs, thanks to the optics the flashes can be seen up to 25 miles away. There is also an electric foghorn (this replaced the compressed air one after the vibrations from this one lead to the collapse of the old tower and other buildings) but thanks to the lovely weather we encountered we were spared a performance!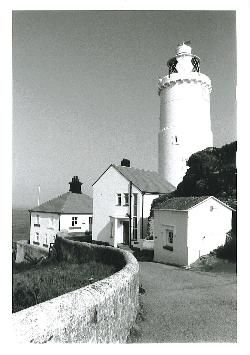 I still think this lighthouse is a very special place...

Copyright © 2008 Federica Monsone. All rights reserved. Reproduction by any means, physical or electronic, in part or in full, without the expressed permission of the Author, is strictly prohibited. Do not hot-link to pages on this site without the permission of the author. Images on this site are NOT royalty-free and must not be downloaded and displayed on any other web site without entering into a license agreement with the Author.