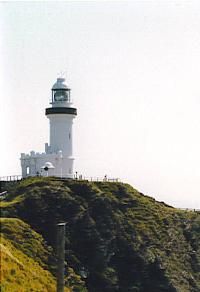 This is the first lighthouse I ever visited. It was just after I graduated and I went travelling around South East Asia and Australia with a girlfriend for a couple of months.

As usual, it was a sunny, warm day in Cape Byron, New South Wales, and we decided to take a walk to see Australia's most easterly point. The Byron Bay lighthouse sits in the Arakwal National Park and you can find more information on it here.

Copyright © 2008 Federica Monsone. All rights reserved. Reproduction by any means, physical or electronic, in part or in full, without the expressed permission of the Author, is strictly prohibited. Do not hot-link to pages on this site without the permission of the author. Images on this site are NOT royalty-free and must not be downloaded and displayed on any other web site without entering into a license agreement with the Author.