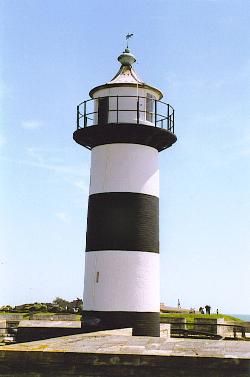 Situated between the Clarence and South Parade piers this lighthouse is part of the Southsea castle, built in 1544 by Henry VIII. The lighthouse was added in 1828 and is still in use today. You can click here to go to the official castle website.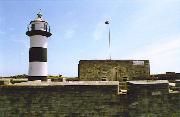 If you don't count those lighthouses were you really only have a lantern room stuck directly on the ground, at 33 feet this is one of the shortest ones I have seen so far. It is in fact so small that it only has one black band painted on the white background. The tent-shaped roof gives it a quirky appearance.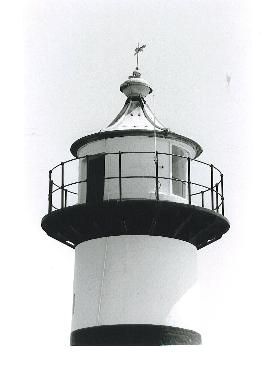 You can view this lighthouse from the surrounding gardens. However you can get closer if you purchase a ticket to the castle as the beacon sits in its grounds and this might be worth doing if you wish to take photos that include the base of the lighthouse. However please note once inside the castle grounds there is no access to the inside of the lighthouse.

Copyright © 2008 Federica Monsone. All rights reserved. Reproduction by any means, physical or electronic, in part or in full, without the expressed permission of the Author, is strictly prohibited. Do not hot-link to pages on this site without the permission of the author. Images on this site are NOT royalty-free and must not be downloaded and displayed on any other web site without entering into a license agreement with the Author.